$2/month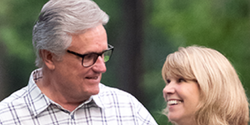 Foundations for a Successful Life
These 365 Short Daily Videos will help you lay a strong foundation in your life,
so that you can truly know Successful Living.
Presented by Larry Kreider DCFI
365 Videos

A video For Each Day

Each Video 4 min In Length

Presented by Highly Qualified Speaker
Larry and LaVerne Kreider's Story

Larry Kreider serves as International Director of DOVE International and LaVerne is a member of the DOVE International Apostolic Council. Larry and LaVerne have served together in Christian ministry and leadership for 50 years. DOVE international, a worldwide family of churches and ministries, has successfully used the New Testament "house to house" strategy of building the church with small groups for more than four decades.
As founder of DOVE International, Larry initially served for fifteen years as senior pastor of DOVE Christian Fellowship in Pennsylvania, which grew from a single small group of believers to over 2,300 in ten years. Today, DOVE believers are found meeting in more than 1,200 local churches and thousands of small groups in twenty-seven nations in five continents of the world.
Larry and LaVerne started ministry in 1971, helping to found a youth ministry called "Lost But Found" that targeted the unchurched youth in their community of northern Lancaster County, Pennsylvania. Dozens came to faith in Christ and Larry found himself teaching a large group of young people each week at a gathering called "Rhema Youth Ministries." DOVE grew out of the ensuing need for a flexible New Testament-style church (new wineskin) that could assist these new believers (new wine). In small home groups, the new believers found a place to experience and demonstrate Christianity built on relationships. They could readily share their lives with each other, grow spiritually, and reach out with the healing love of Jesus to the world.
Larry and LaVerne continue to pursue this vision to build the church with a small group focus. It is their heart's cry to see believers worldwide reach out from house to house, city to city and nation to nation, as they empower and train others to do the same. They emphasize the need for believers to become spiritual fathers and mothers who empower the next generation. They are blessed to serve alongside an amazing team of leaders representing many nations of the world. Larry is a featured speaker at conferences and travels extensively to train Christian leaders worldwide.
For the past six years Larry has been in a succession process preparing to pass the DOVE International director role on to a younger leader. This is planned to culminate during the first half of 2024.
An author, Larry has written more than 40 books, including the Biblical Foundation Series in English, French and Spanish, Starting a House Church, Speak Lord! I'm Listening, House to House, The Biblical Role of Elders for Today's Church, Building Your Personal House of Prayer and The Cry For Spiritual Mothers and Fathers. Larry and LaVerne coauthored the book When God Seems Silent. Over 500,000 of Larry's books have been sold and translated into over ten languages.
Larry also has written articles for Christian periodicals, including Ministries Today, Morning Star Journal, Charisma Magazine and others. He earned his Masters of Ministry degree with a concentration on leadership from Southwestern Christian University.
LaVerne started out in ministry as a teenager reaching out to street kids. A compassionate "people person," she has the special ability to connect with people's hearts as she challenges them to grow spiritually. As an inspirational speaker and encourager, she challenges the church to walk in intimacy with the Lord, the fear of the Lord and to minister the compassion of Christ. She also spends much of her time mentoring pastors' wives and encouraging leaders.
Larry and LaVerne have been married 50 years and live in Lititz, Pennsylvania. They love to sit by the ocean and read a good book, take walks, and spend time with their four amazing children, their families and the best grandkids in the world.
Created with